| | |
| --- | --- |
| STATUS | UNDER CONSTRUCTION |
| GDV | RM160m |
| CLIENT | FOREBASE PROPERTY SDN BHD |
| LOCATION | JALAN IMBI, KUALA LUMPUR |
| PROGRAM | LUXURY CONDOMINIUM |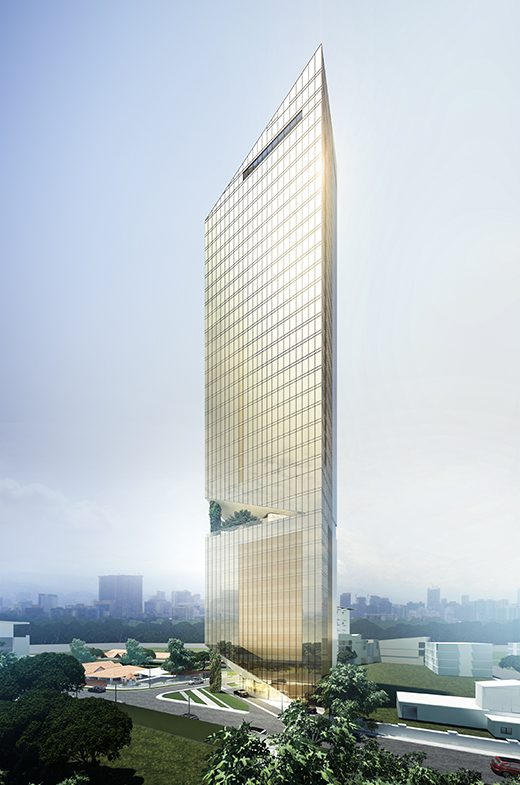 Situated along Jalan Inai, Hemmon House sits on a former presidential bungalow site in the heart of the city. As it sits on a narrow site, the building's form is prescribed by its smaller footprint and is shaped by inventive engineering. Hemmon House's context within Kuala Lumpur called for a radical yet elegant structural solution that is both architectural and performative. This resulted in a design that transplants parts of the city into the tower by grafting surrounding parks and community into the building.
The design shaves off three corners of the tower and re-inserts a piece of city into each cut, disrupting regular structure and creating new civic spaces within its private typology. At ground level, this takes the form of a lifted corner, opening up the building on one edge so that the tower touches the ground lightly and returns open space to the street. At mid-level, the second cut in the building serves as a community garden with facilities for families, while the topmost cut boasts vast views at the sky lounge. All this is constructed with no interfering columns within the central section of the tower. Instead, it stands with a sheer wall topping a single column, 2 car lifts, and a passenger lift – resembling a table with four legs – creating a stable foundation for unobstructed, usable space.